Researchers Destroy The Narrative That Greater Toronto Is Running Out of Land
Greater Toronto real estate prices have been soaring largely due to the belief that we're running out of land. Developers repeat this mantra, and largely blame the province for having "restrictive" policies. A report from the Neptis Foundation destroys that narrative. The non-partisan, urban research organization, actually argues there's more land available for development today, than there was in 2013. The organization believes Greater Toronto has enough land to accommodate housing and employment beyond 2031.
Greater Toronto Urban Planning 101
Urban planning is a complex topic, so we're not even going to pretend we can reduce it to a paragraph. However, there are some terms Southern Ontario planners use, that you will need to to know. Those are the Greenbelt, Inner and Outer Ring Municipalities, and designated greenfield. Let's quickly run over these.
The Greenbelt: The Greenbelt is a permanently protected area the surrounds the Greater Toronto Area. It wraps around the Durham-Toronto-Hamilton corridor. It's very important to preserve this, and hopefully it won't need to be touched for a very, very long time. Developers often say this "restrictive" measure is the reason for high home prices.
Inner and Outer Ring Municipalities: The Greater Golden Horseshoe (GGH) is broken down into two major planning regions – inner and outer ring municipalities. Inner ring is what's inside the Greenbelt. Outer Ring is what surrounds the Greenbelt. Toronto, York, Durham, Hamilton, etc. are inner. Dufferin, Guelph, Waterloo, etc. are outer.
Designated Greenfield: The province defines this as "the area within a settlement area that is not built-up area." In non-government speak, it's the area beside developed areas – but untouched. These are areas reserved for further development. Due to the location, it's also easy (and cheap) to extend infrastructure, and build housing. Got it? Onward.
Pst… We're Not Using Land All That Quickly
The province has been adding land faster than we're using it, according to the gap between Neptis reports. In their 2013 report, 107,000 hectares of land was reserved by municipalities in the Greater Golden Horseshoe, to accommodate growth to 2031. In the latest report, finished in 2017, the province had added about 125,560 hectares, an increase of 17.34%. Hey, that's something you never hear – an increase of buildable land!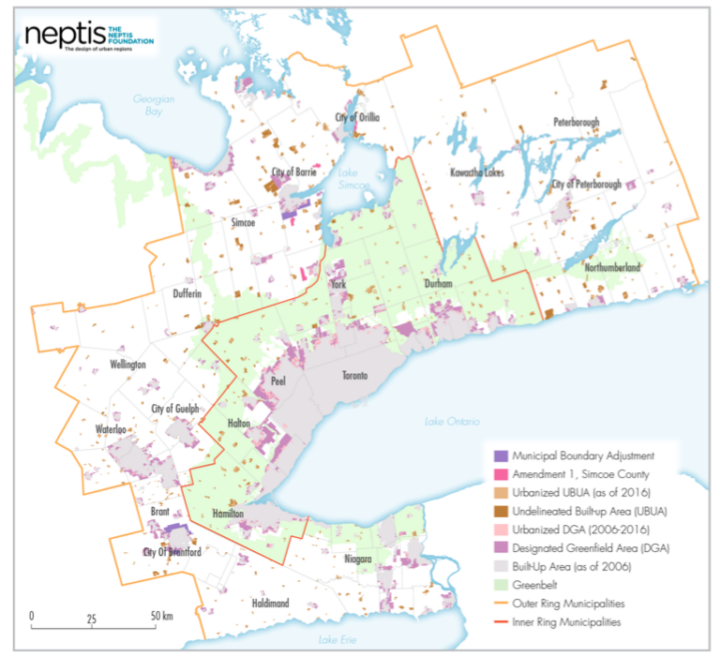 Source: Neptis Foundation. 
More important, is how much of that land is designated greenfield, that can (and will) be used for housing and employment. In 2013, Neptis researchers calculated 107,000 hectares of land available, with 45,660 hectares available as designated greenfield. It was published in their titled report, No shortage of land for homes in the Greater Toronto and Hamilton Area. It's easy to see how the title would leave some room for ambiguity, on whether there was enough land. Note the sarcasm.
In the latest report, that number has increased substantially. Neptis researchers calculate 125,560 hectares of land available, with 103,200 hectares of designated greenfield. About 45,729 of that greenfield is located in inner ring municipalities. Yay! We have roughly the same amount of land reserved for housing as we did in 2013. The report concludes "unbuilt supply of land to accommodate housing and employment to 2031 and beyond." It's almost like… it was barely touched.
What Does That Mean?
This issue needs to be looked at as land in the City of Toronto, and outside. The City of Toronto has been built up for some time, which means new housing will only be created with further densification. This means prices should rise, but by how much? The CMHC is struggling to explain almost 50% of the increase in prices, which means these were demand-side factors. Demand side factors are best explained as a premium you pay to have something sooner. Think of it like the fee you pay someone to stand in line for an iPhone on opening day. In a typical real estate cycle, this problem gets solved relatively soon after – since developers scramble to cash in, eventually creating hypersupply.
Outside of the city is where the problem is, since that's where most of the land waiting for development sits. Prices in the 905 regions, and as far off as Kitchen-Waterloo, have been rising at a similar rate to the City of Toronto. Most of these regions are far from running out of land, and some aren't even restricted by the Greenbelt. The assumption that Toronto is going to spill over into these regions is… uh, ambitious. Crunching the numbers, there's very little reason to believe this, and it actually looks like *gasp* local governments are doing a great job planning land use.
Developers have repeated that we're running out of land, over and over. Heck, even some politicians have even echoed this sentiment, sending people into hoarding mode. People have begun buying property for their grade-school aged children, as far off as Ajax. If we're running out of land, housing is going to be continue to get more expensive. It would appear to be good financial planning to reserve land for future generations in this case.
However, that is not what's happening. People have been largely ignoring data, in favor of the belief that an extra house or two will be what defines their financial security. It's like the lottery, for upper middle class people.
Like this post? Like us on Facebook for the next one in your feed.