Toronto and Vancouver real estate are two of the world's most bubbly markets, according to a Swiss mega bank. UBS analysts updated their Bubble Index, with both cities near the top of their list. The bank noted prices are elevated in most economic centers, so they're not alone. Historically, analysts noted, elevated asset prices decline as interest rates rise.
Global Prices Are Elevated And "Cracks Are Starting To Appear"
The bank noted declines to home prices, market imbalances, and rising rates as threats. Half of bubbly markets are seeing prices stall or decline, which analysts called "cracks" in the market. In the other half, prices continued to rise even further, making the bubbles worse. The lack of affordability combined with rising rates make further price gains unlikely. This is likely to be a deterrent for seasoned investors to continue to buy. Although your cousin Jim that made a year worth of salary flipping a pre-sale assignment is probably still bullish.
"Low affordability also jeopardizes cities' long-term growth potential and could cause investors to reassess their expectations about future capital gains."

– UBS Global Real Estate Bubble Index, September 2018
Toronto Real Estate Is The 3rd Bubbliest Market In The World
Toronto real estate claims the 3rd spot on the bubble index, dropping from first place. Analysts at the bank noted price stabilization, but elevated valuations. They further noted prices have trended upwards since the 1990s, and are more than 50% higher than 5 years ago. They believe higher mortgage costs and tighter lending "should limit the upside." TL;DR a long uptrend, with a limit on further upside potential.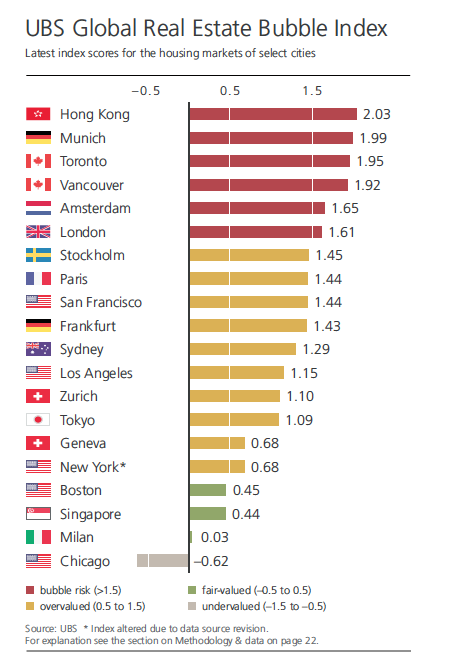 Source: UBS.
Vancouver Real Estate Is The 4th Bubbliest Market In The World
Vancouver held strong in fourth, but the size of the problem is still getting worse. The report notes market imbalances increased, with above average growth for rental prices. Home prices have been growing since the 1990s, and have doubled in 12 years. The "strained affordability" will become an issue if mortgage rates increase. Those reasons pushed Vancouver even higher on the bubble list than last year.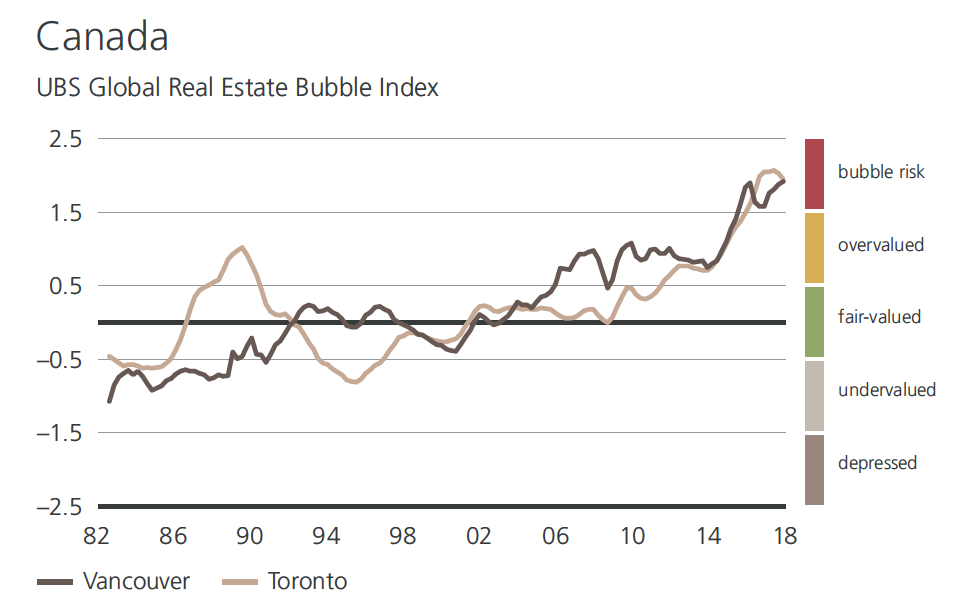 Source: UBS.
The bank warns investors in bubbly markets that they should not expect real price appreciation in the "medium to long run." That means we've likely priced in a lot of future growth in today's market.
Like this post? Like us on Facebook for the next one in your feed.