The Vancouver real estate party for speculators might be officially be over. Just a few days after BCREA forecasted pricing declines for Vancouver real estate in 2017, single family detached homes aren't looking so hot. The latest report from the Real Estate Board of Greater Vancouver (REBGV) showed prices dropping from peak, as well as  declining sales and absorption from last year.
Prices Are Declining
The benchmark average of single family homes dropped for another straight month. The average sale price in November was $1,511,100 – a 2.2% decrease compared to October. Still a 23% increase from the year prior, but more than 4% lower than the July 2016 peak.
As you could probably guess, not all areas were treated the same way. West Vancouver saw the greatest decline in the Greater Vancouver Region (GVR), with the average sale down 6%. That means the average $3,016,600 home sold in the area is $193,500 lower than the month prior. Conversely, Bowen Island saw an increase in average prices, increasing 2.7% in November. It's not all bad, but more ares in the GVR saw a decline than increase for sure.
Vancouver Detached Home Prices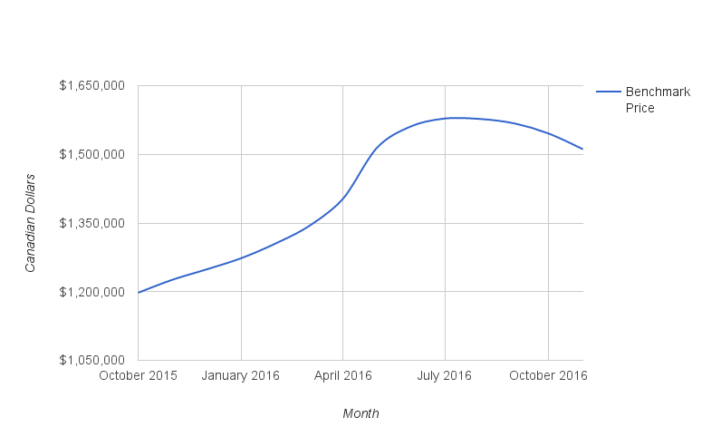 Sales Are Declining
The number of sales are plummeting, even when seasonally adjusted. Only 638 single family homes sold in November, a drop of 2.1% from the month prior. That sounds bad, but it gets worse – that's a 46.2% drop from the same time last year. Sales are expected to reduce slightly when prices get to this level, but that level may be a little higher than expected.
Vancouver Detached Sales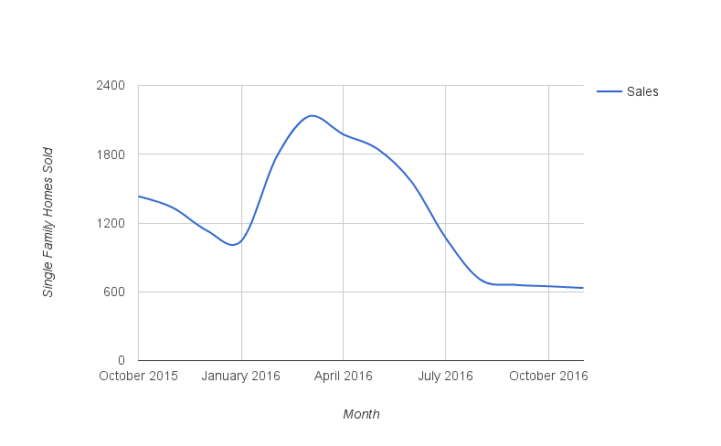 Absorption Is Declining, But Higher Than Last Month
The market seems to be finding a better balance of absorption of new listings of single family homes. The rate of absorption in November rose to 52.53%, substantially higher than the 40.6% in October. Still a 49% decrease from last year, so don't expect the real estate mania to kick up any time soon. Although it is minor improvement over last month.
Generally speaking, absorption determines whether it is a buyers or sellers market. Anything above 20% usually results in an increase in pricing. Anything below 10% leads to a decline in pricing. Between 10-20% represents a balanced market ideally. In speculative markets like Vancouver however, fundamentals take a backseat to what people will pay.
Absorption of Single Family Homes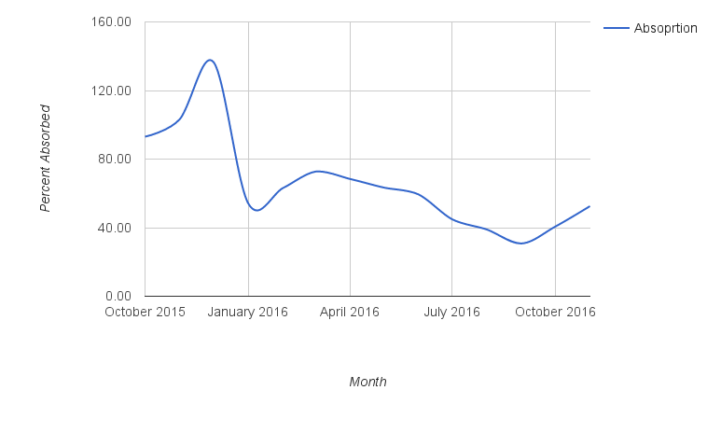 While the report seems bad, it's not entirely terrible. Absorption remained well above industry standard, which means there's still buyers at this level. If you're a buyer actually buying a home to live in over the next decade or two, you might be overpaying but the chances of you losing money isn't all that bad. The days of speculators triple flipping a home in a single year are probably long gone.
Like this post? Like us on Facebook to get the next one right in your feed. 
---
Photo via waterboard.